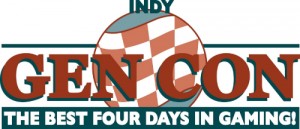 2013 was my first Gen Con and it was a lot of fun. I will be back for Gen Con 2014 (among a growing french team) ! Samurai Spirit (Funforge) will be released at this occasion so the attendees will be the first ones to draw the sword (you can prepare yourself by reading the rules) ! Repos Production and Asmodee will demo 7 Wonders Babel (the game will be released in October).
Here is my signing sessions schedule for Samurai Spirit :
Thursday : 1pm to 2pm (Passport / Funforge Booth)
Friday : 2pm to 4pm (Passport / Funforge Booth)
Saturday :

2pm et 3:30pm

(Passport / Funforge Booth)
I should also make a session on Asmodee Booth but I don't have the details yet…
Have a great Con !