Fin d'année oblige, voici la petite sélection des jeux qui m'ont marqué en 2013 ! (ma sélection de l'an dernier -> myGOTY 2012)
JEU VIDÉO
Je ne l'ai découvert que tout récemment mais il m'a décoiffé tout de go ! Tearaway est mon GOTY vidéo-ludique. Le fait que ce soit un jeu PS Vita y est pour quelque chose car c'est vraiment une machine que j'affectionne…
Les autres jeux sur lesquels j'ai passé un bon moment cette année : Last of Us (PS3), Mario & Luigi Dream Team Bros (3DS), Civilization V (PC), The Cave (PC), Dishonored (PC), Tomb Raider (PC), Pinball Arcade (iPad), Ridiculous Fishing (iOs).
Les jeux qui attendent patiemment leur tour : Ninokuni (PS3), Zelda : a link between two worlds (3DS), Bravely Default (3DS), Remember Me (PC), Rayman Legend !
JEU DE SOCIÉTÉ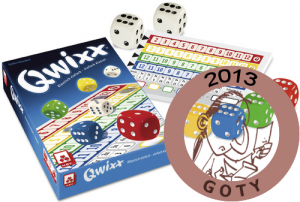 Qwixx, de Steffen Benndorf, est un excellent petit jeu que j'ai découvert grâce à sa nomination au Spiel des Jahres. J'y ai joué et rejoué avec de nombreuses personnes (et presque autant de profil de joueurs). J'y rejouerai en 2014, sans aucun doute !
Sinon, j'ai beaucoup joué à Magic The Gathering (live) et Through  the Ages (online), terminé ma campage de Risk Legacy, bien aimé mes premières parties de Brugges et pas assez joué à Blood Bowl Team Manager et Netrunner. Enfin, une mention spéciale à Kakerlakak de Peter-Paul Joopen édité chez Ravensburger !
Du côté des attentes, c'est SeaFall de Rob Daviau qui a toute mon attention !
Bonnes fêtes de fin d'année à toutes et tous !
Antoine