Pour célébrer l'obtention du Kennerspiel (Juin 2011), l'équipe Repos Production m'a soufflé l'idée de réaliser un nouveau plateau sur le thème des Colons de Catane, K.Teuber nous ayant rapporté qu'il avait fortement apprécié 7 Wonders. Travailler sur cross-over avec le jeu qui a fondé le nouvel Âge du jeu de société, je ne pouvais bien sûr pas refuser ! Et comme les Colons de Catane proposait tout un tas d'éléments thématiques à exploiter (le blé, le mouton, la route, la colonie, la ville, le voleur, le chiffre 7, les dés), la création d'un plateau ne devrait pas être trop difficile. Erreur ! Le développement de ce nouveau plateau aura finalement pris un temps fou, avec pas moins de 4 versions distinctes et un bon paquet de parties de test…
Les effets de la face A sont assez facile à décrypter à partir de leurs pictogrammes (indice : les liens avec Catane sont le Port et le Voleur). Quand a la face B, elle semble vouloir rester secrète jusqu'au salon d'Essen mais sachez qu'elle est bien entendue présente au verso de ce plateau en carton. Cet élément sera vendu 2€ lors du salon d'Essen au profit d'une association humanitaire allemande choisie par messieur Teuber himself : www.aktion-deutschland-hilft.de.
Pour répondre à la question que j'ai vu fleurir un peu partout sur les forums ludiques, je ne sais pas si, où et comment ce plateau sera disponible après le salon d'Essen… Désolé !
Ci-dessous la première version du plateau avec l'apparition des deux ressources « manquantes » le blé et le mouton et celle de la route (l'espèce de trait marron). Une version finalement pas retenue car un peu trop complexe et pas assez fluide lors des sessions de test…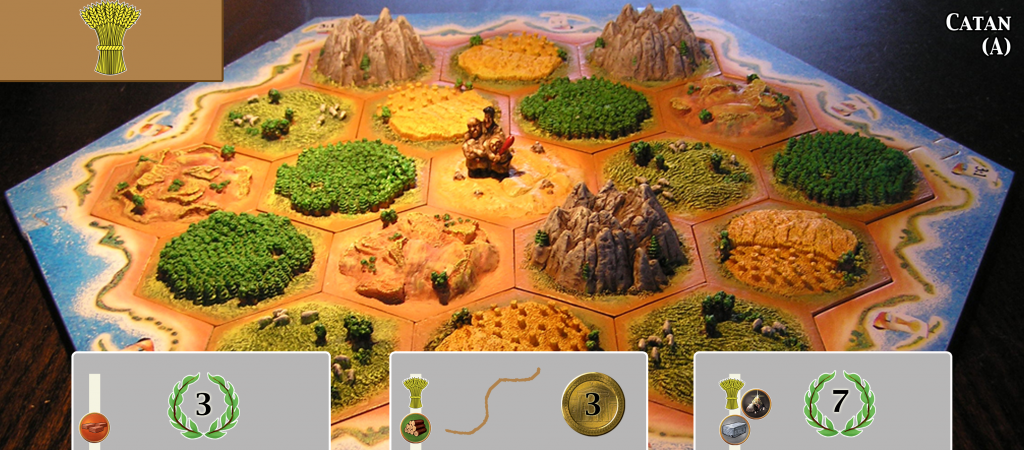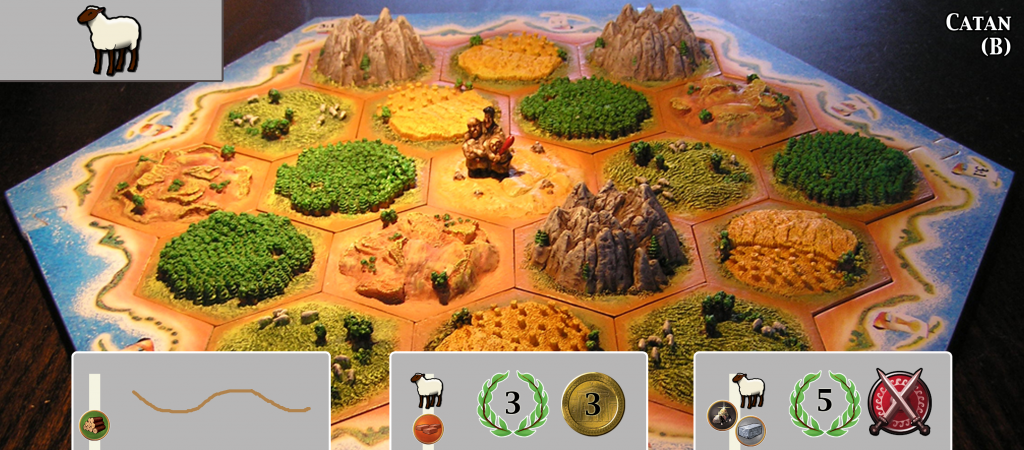 To celebrate the award of Kennerspiel (June 2011), the Repos Production team ask me to design a new board on the theme of Settlers of Catan, K. Teuber have reported to our ears that he highly appreciated 7Wonders. Work on a cross-over with the game who founded the new age of boardgaming, of course I could not refuse ! And as the Settlers of Catan proposed a lot of thematic elements to exploit (wheat, sheep, the road, the colony, the city, the thief, the number 7, the dice), designing a board should not be too difficult. Error! The development of this new board finally took a lot of time, with no fewer than four different versions and a huge bunch of playtests …
The effects of the A side is quite easy to decipher from their icons (hint: the links with Catan are the Harbor and the Thief). As for the B side, it seems to remain secret until the Essen fair but it will be on the other side of that cardboard piece for sure. This item will be sold 2€ at the Essen Fair in favor of a German humanitarian organization chosen by Mr. Teuber Himself: www.aktion-deutschland-hilft.de.
To answer the question I have seen flourished around the forums, I do not know when, where and how this goodie will be available after Essen … Sorry!
Up on this page, the first version of the board with the appearance of the two « missing » resources, wheat and sheep, and the road (the ugly brown line). A version rejected as a bit too complex and not intuitive enough during test sessions …